Nurse Practitioner/Physician Assistant Position
Madison Heights, MI
VIEW CLASSIFIED
Office Space for Integrative Practitioner Available
Colchester, VT
VIEW CLASSIFIED
ANH ACTION ALERT

Here we go again: FDA Defies Congress

ANH ACTION ALERT

Mumps Outbreak:
The Real Cause
ANH ACTION ALERT

Is Your Town Leaking Lead?
ANH ACTION ALERT

In Pain? Feds Don't Care!
Cleverly designed tuberculosis vaccine shows promise in mice.
READ MORE
Bloodstream infections: Most common type of health-care associated infections in children
READ MORE
Targeted therapy for sleep disorders helps patients with muscular dystrophy.
READ MORE
MIA protein no longer missing in action.
READ MORE
Cyanobacteria: The future of sunscreen?
Worse than Zika, but ignored. Why?
READ MORE


Trial finds oral iron drug safe, effective for treating anemia in kidney disease patients.

Check out our new Premier, Corporate and Integrative Professional Categories!
In 2016, our members voted to amend ACAM's membership categories. Today, ACAM is pleased to announce that the new membership categories, as well as expanded benefits, are now available! Could you be better served under a Corporate membership? Is Premier the right fit for you? Do you have colleagues who would benefit ACAM membership under our new Integrative Professional category? Please see below and
CLICK HERE
for details on membership benefits by category. If you'd like to change your membership category, or have any questions, please contact ACAM at 1.800.532.3688.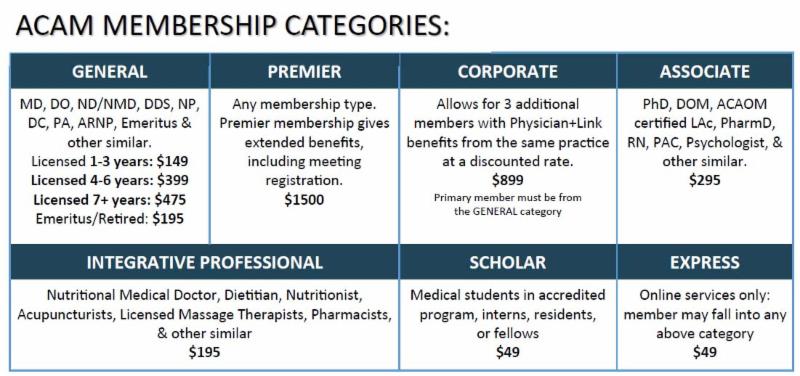 A major victory for naturopathic medicine and a major milestone in health care was achieved today - Gov. Charlie Baker, (R-MA), signed a bill, effectively immediately, to license Naturopathic Doctors in the state.

This unprecedented move was 20 years in the making, and ensures the safe practice of naturopathic medicine in Massachusetts. This is the second state to gain licensure within a year's span. Pennsylvania achieved regulation in November, 2016.
Congratulations and appreciation goes to the Massachusetts Society of Naturopathic Physicians (MSND). LEARN MORE

Dr. Cruikshank believes preventive medicine is vital to a healthy lifestyle. Through physical exams and extensive lab testing, he can find much needed solutions too many health related problems. Based on your needs, Dr. Cruikshank provides a

program based on your evaluations, your progress, and your goals.
Through alternative medicine services and nutrition consultation, the conditions he treats include asthma, hormonal imbalances, diabetes, obesity, erectile dysfunction, exercise assessment, heart and vascular disease, obstructive sleep apnea, osteoporosis, and thyroid disorders.
LEARN MORE

Do you ever look around, possibly at the political process in our country, and ask yourself "is everyone brain-dead"? Contrary to what one would think when looking at the advances in technology our overall IQ is dropping as the decades go by, not going up! Those alive during the Victorian era actually had higher overall IQ than we do. While that may explain a lot, one still has to ask what the cause could be.
During the last few decades our environmental burden has continued to increase. During the same time new illnesses that are clearly associated with environmental overload, like chemical sensitivity, have appeared. Other illness that are strongly associated with environmental overload, such as ADHD, allergies, asthma, autoimmunity, autism, T2DM, obesity and Parkinsonism have begun to increase dramatically.
LEARN MORE

SPONSORED ADVERTISEMENT

STAY UP-TO-SPEED IN ENVIRONMENTAL MEDICINE - Do what Mike did!
"I am a convert! After taking Walter Crinnion's Environmental Medicine for Physicians course I realized how much better I could care for my patients (and keep my family healthier). Since then I have used his Crinnion Opinion to keep me up to date on the latest in the Environmental Literature. I can't say enough about how access to his information has changed my life professionally and personally.
Great job, Walter!" -
Michael Bauerschmidt MD
CLICK HERE
for info on the Environmental Medicine Training Course
CLICK HERE
for info on the monthly Crinnion Opinion update on Environmental Medicine
FOR DARING TO STUDY A DISCREDITED THERAPY, THIS DOCTOR EARNED SCORN - AND A $37 MILLION GRANT
The new heart patient asked Dr. Gervasio Lamas if he thought chelation therapy was worth a try. "Of course not!" the cardiologist replied emphatically. His Harvard training had taught him that alternative therapies were a waste of time and money, and potentially risky to boot. "I told him it was quackery."
But Lamas went home that night unsure if he had given his patient the best medical advice. He looked up research on chelation therapy, which removes heavy metals from the body, and found very little data either supporting or contradicting the procedure.
Lamas was troubled by the idea that he had offered this man a medical opinion that wasn't supported by science. And he decided to conduct a study himself. He had no idea what he was getting into.
LEARN MORE
SPONSORED ADVERTISEMENT

ADVANCED NUTRITIONAL
SUPPLEMENTS & SUPERFOODS
Health Products Distributors, Inc. (HPDI)
supplies practitioners with a complete line of high-quality nutritional supplements and superfoods. ACAM members apply for a reseller account today!
LEARN MORE!